© 2016 Liveware Media, LLC
—
All by this author ›
Make
Favorite Author ›
Get it
Free
---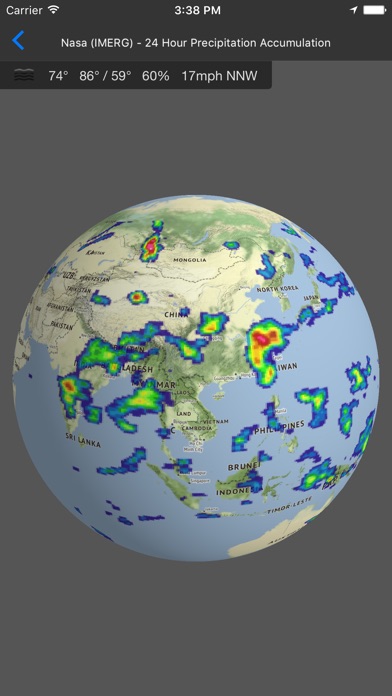 Real-Time Wx
presents 3D visualizations of up to date nationwide and worldwide weather data from Nasa and the National Weather Service on an interactive virtual globe.
Whether you're monitoring a thunderstorm, checking your current weather conditions, or you're tracking a hurricane, this app is for you.
The app relies on information taken from third-party data, and we are not responsible for the accuracy or lack of data being presented.
There is no login required, no ads, and no collection of personal information.
Globe Layers:
Nasa Integrated Multi-Satellite Retrievals for Global Precipitation Measurement Mission (IMERG)
- Clouds (updated every 3 Hours)
- 30 Minute Precipitation Accumulation
- 3 Hour Precipitation Accumulation
- 24 Hour Precipitation Accumulation
- Current Hurricanes and Typhoons (Tropical Cyclones)
Note: The Nasa (IMERG) layers above are provided by the near-realtime "early run" product, which is generated by Nasa's Precipitation Processing System every half hour with a 6 hour latency from the time of data acquisition.
Nasa Tropical Rainfall Measuring Mission (TRMM)
- 3 Hour Rainfall Accumulation
- 24 Hour Rainfall Accumulation
- 72 Hour Rainfall Accumulation
- 24 Hour Flood Potential Forecast
Note: The system to produce the Nasa "TRMM Data" estimates in real time was developed to apply new concepts in merging quasi-global precipitation estimates and to take advantage of the increasing availability of input data sets in near real time. The overall system is referred to as the real-time TRMM Multi-Satellite Precipitation Analysis (TMPA-RT), and is currently in Version 7.
Nasa's Goddard Space Flight Center (GSFC) MODIS Aqua Satellite
- 1 Day Average Sea Surface Temperature
NOAA / National Weather Service
- Doppler Radar (updated every 10 minutes)
- Real-Time NWS Warnings
Current Weather Conditions:
OpenWeatherMap
- Temperature
- High Temperature
- Low Temperature
- Humidity
- Wind Speed
- Wind Direction