© 2018 Unbound Medicine, Inc.
—
All by this author ›
Make
Favorite Author ›
Get it
$29.99
---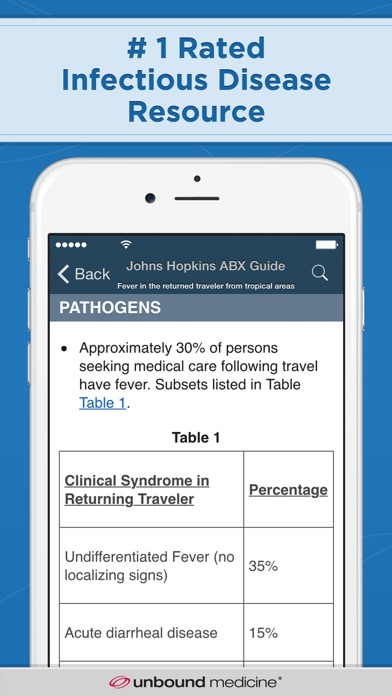 *2017 edition featuring hundreds of new and updated entries*
The official Johns Hopkins ABX (Antibiotic) Guide 2017 from Johns Hopkins Medicine features up-to-date, authoritative, evidenced-based information on the treatment of infectious diseases to help you make decisions at the point of care. This comprehensive resource organizes details of diagnosis; drug indications, dosing, pharmacokinetics, side effects and interactions; pathogens; management; and vaccines into easily accessible, quick-read entries.
Note: For continuous updates and web access, search Johns Hopkins ABX, HIV, Diabetes, and Psychiatry Guides with Updates in the app store.
With the Johns Hopkins ABX Guide you can:
• Choose the correct drug and dosage, then review the risk of potential adverse reactions or interactions.
• Discover or confirm a diagnosis with details on pathogens and clinical considerations.
• Access the medical literature with annotated reference links.
Features:
• Hundreds of brand name and generic drug listings
• Diagnosis, Pathogen, Management, and Vaccine Indices
• Evidence-based recommendations
• Expert comments and analysis
• Tabular summary of available drug forms and costs
• Adverse Reactions and Drug Interactions
• Full Text Search – find topics across all entries
• Personalized favorites
Editors: John G. Bartlett, MD; Paul G. Auwarter, MD, MBA; Paul Pham, PharmD, BCPS
Publisher: Johns Hopkins University School of Medicine
Powered by Unbound Medicine