© Tappicon 2018
—
All by this author ›
Make
Favorite Author ›
Get it
$3.99
---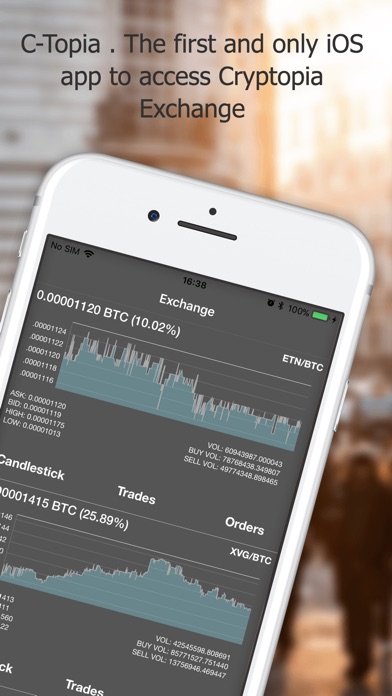 C-Topia is the first and only available app that will allow you to track Cryptopia Exchange (see notes below) while giving you access to view your balances, opened orders, trading and transaction history.
Earlier, you needed your desktop computer to get access to real time tables and charts on Cryptopia Exchange. Now, all of those data are available in C-Topia Mobile app and easily accessible for review so you're not behind with information and latest tickers.
In our app you have access to:
- Your personal Trading portfolio including:
- Balances
- Transactions history
- Trading history
- Opened Orders!
- Latest detailed charts for ALL available trading pairs on Cryptopia Exchange (1600 and counting with 500 currencies)
- Candlestick charts with all necessary information you would expect to find on this chart + volume bar.
- Dynamically updated trading history in easily readable interface while keeping an eye on all other vitals for selected currency pair
- Dynamically updated list of open orders for both buying and selling together
Enjoy this already valuable package while we already work on feature upgrades like alerting, notifications, apple watch support and expand available features.
Feature requests and suggestions are welcome at info@tappicon.com
Note:
- This app is not affiliated with Cryptopia Ltd. It uses publicly available API from Cryptopia and conforms to terms and conditions to perform queries and present data.
- Cryptopia is registered trademark of Cryptopia LTD, New Zealand