© Trustmobi
—
All by this author ›
Make
Favorite Author ›
Get it
$0.99
---
Best Chart Rankings*
#157 in
Kids Games
(
iPhone
) on Jul 12, 2017
#3 in
Utilities
(
iPhone
) on Jul 8, 2017
#122 in
Top Apps
(
iPhone
) on Jul 8, 2017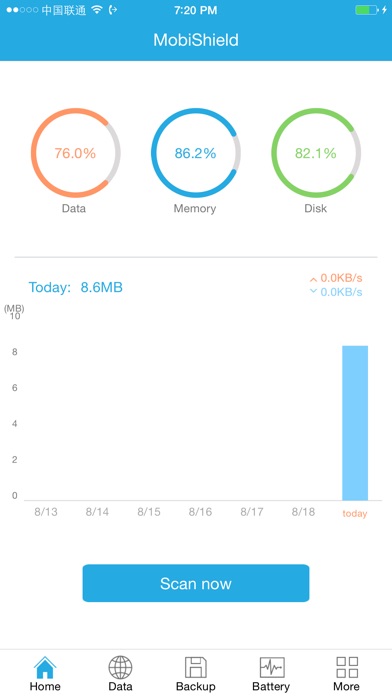 Give your mobile phone a healthy check-up!
MobiShield
of iPhone can check whether there is security risks in your phone, help you repair risks and prevent the personal information leakage in your phone because of security risks.
MobiShield
always protect your phone, the most accurate network traffic monitoring, the most professional network testing technology, the full range of mobile phone information recognition, all mobile phone information is mastered.
MobiShield
monitors your traffic usage in real-time, and according to the need reminds you to make you understand your traffic using state in time;Real-time protection of personal information,Make your phone more secure!
Main Function:
* Mobile Health Check-up
-Safe scan;
-Risk repair;
-Check the iPhone monitoring information;
-Monitoring iPhone traffic;
-Monitor iPhone battery;
-Monitor iPhone storage;
-Monitoring system information
* Backup and Recover Contacts
- Support safe backup and restoration of the contacts;
-Compress backup content with encryption to guarantee the content security in the transmission and storage, and to save network traffic;
- Real-time online restoration;
* Monitor the iPhone Battery
- Display battery with dynamic graphics;
- Display standby duration (standby time, 2G / 3G talk time, audio and video playback time, used time by Wi-Fi and 3G Internet).
* Monitor iPhone Storage
- Monitor mobile phone memory usage. Graphics displays system, linkage, active, inactive and unused memory space;
- Monitor mobile storage. Graphics displays used and available disk capacity;
- All running process currently;
* Monitor Network
- Network connection state (3G or Wi-Fi);
-The current IP address;
- MAC address of mobile phone;
- Detection of the network connection;
* Monitor System
- Information of device, operating system, the kernel version, device models, the UDID, CPU dominant frequency;
* Monitor Traffic
- Display the used network traffic of 2G / 3G, WiFi in the mobile phone in real time;
- Support traffic limit alarm to prevent unnecessary telephone charge caused by going over monthly traffic;
- Monitor in real-time and all statistical data is directly from iOS system. There is no need to wait for the operator to update;