© Risky Lab LLC
—
All by this author ›
Make
Favorite Author ›
Get it
$4.99
---
Best Chart Rankings*
#3 in
Strategy Games
(
iPhone
) on Apr 28, 2016
#1 in
Strategy Games
(
iPad
) on Apr 28, 2016
#15 in
Kids Games
(
iPhone
) on Apr 16, 2016
#5 in
Kids Games
(
iPad
) on Apr 27, 2016
#3 in
Adventure Games
(
iPhone
) on Apr 28, 2016
#3 in
Adventure Games
(
iPad
) on Apr 28, 2016
#11 in
Top Games
(
iPhone
) on Apr 17, 2016
#4 in
Top Games
(
iPad
) on Apr 28, 2016
#15 in
Top Apps
(
iPhone
) on Apr 16, 2016
#5 in
Top Apps
(
iPad
) on Apr 27, 2016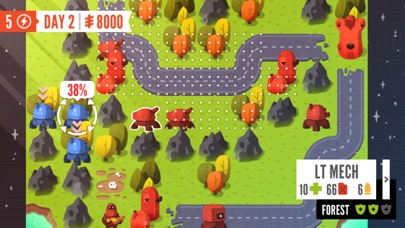 "Possibly the best online multiplayer game ever released for iOS."
-PocketTactics.com
Warbits
, a war simulator for a better tomorrow. Give peace a fighting chance by settling your differences casualty free. Don't agree with your fellow factions? You don't have to! Put those blasters down, load up
Warbits
, and virtually crush the opposition!
TURN-BASED STRATEGY
CAMPAIGN - Battle through 20 missions across 5 unique environments as you unravel the story of a dysfunctional galaxy and the war simulator designed to save it.
CHALLENGE MODE - Test your grit against 30 challenging missions at your own pace. 10 Skirmish, 10 Puzzle and 10 unlockable Veteran missions.
POWERS - Supercharge your army with 16 game changing power-ups.
ONLINE OR LOCAL - Take the fight online with Game Center or play locally against friends and AI opponents.
TAG MATCHES - Automatically get matched against players based on the modes you like to play.
INSTRUCTION MANUAL - Harken back to the golden age of cracking open a new game with this classic instruction manual: http://riskylab.com/
Warbits
Manual
OTHER FEATURES
• Asynchronous gameplay
• 40 Custom versus maps
• 15 Game Center achievements
• Replays & in game messaging
• Sync campaign progress with iCloud
"Comforted a 4-year-old who was nervous on a flight."
-Twitter Follower
"I haven't laughed at a game in a long time and this has touched my heart."
-Beta Tester
"Is it out yet?"
-Twitter Follower 2012
"C'est incroyable."
-NeoGAF Member
"looks so incredibly generic from the trailer..."
-YouTube Comment
Follow Risky Lab:
https://twitter.com/RiskyLab
https://www.facebook.com/
Warbits
game