© 2017 Tecarta, Inc.
—
All by this author ›
Make
Favorite Author ›
Get it
$4.99
---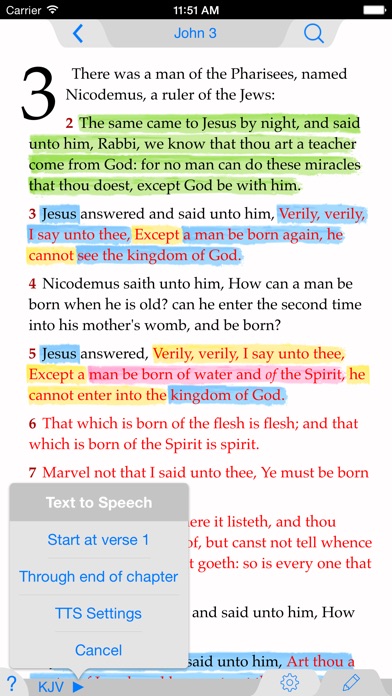 The
NASB Bible
The FASTEST Bible app and most efficient way to read & study the Bible. Quickly navigate to any verse and easily access tools to help further your understanding of the Bible. Over 5 million downloads and over 400,000 people reading their Bibles each week!
FEATURES:
• Take Notes
• Highlight or Underline words & entire verses
• Bookmark Verses
• Add Margin Notes
• 4 types of Navigation (Scroll Wheel, 3-Tap, 2-Tap, & Keyboard)
• Folders to organize your notes & bookmarks
• Access Study Bibles & read the study notes beside the Bible
• Offline (No Internet connection required for downloaded Bibles)
• Red Letter text for Jesus' words
• Search the Old & New Testament to find verses containing the entered keyword
• Night mode for low-lit reading areas
• History folder to access past 50 viewed verses
• Split-screen mode to read two Bible translations at once
• Share verses & notes via Facebook, Twitter, email, & SMS
• Bible talks to you! Text-to-Speech allows the Bible to be read to you out loud
• Change font size and font type
• Auto scroll allows the Bible to scroll automatically
• Backup all your purchases and created Bible data using a FREE TecartaBible.com account
• Cross References & Footnotes by long-pressing on dotted-underlined words & superscript letters
IN-APP CONTENT:
• Bibles (KJV, NIV, NLT, NKJV, ESV, GW, MSG, NCV, and more!)
• Commentaries (Matthew Henry's Concise, Commentary Critical & Explanatory on the Whole Bible, John Wesley's Explanatory Notes, John Gill's Exposition on the Whole Bible, and more!)
• Study Bibles (NIV Study Bible, NKJV Study Bible, NIV Woman's Study Bible, Lucado Life Lessons Bible, and more!)
• Devotionals (One Year Devos)
If you have suggestions, questions, or comments we would love to hear from you! Email us at biblesupport@tecarta.com
If you need help or want to see all the features in your Tecarta Bible, please visit our Help website at http://tecartabible.com/help/